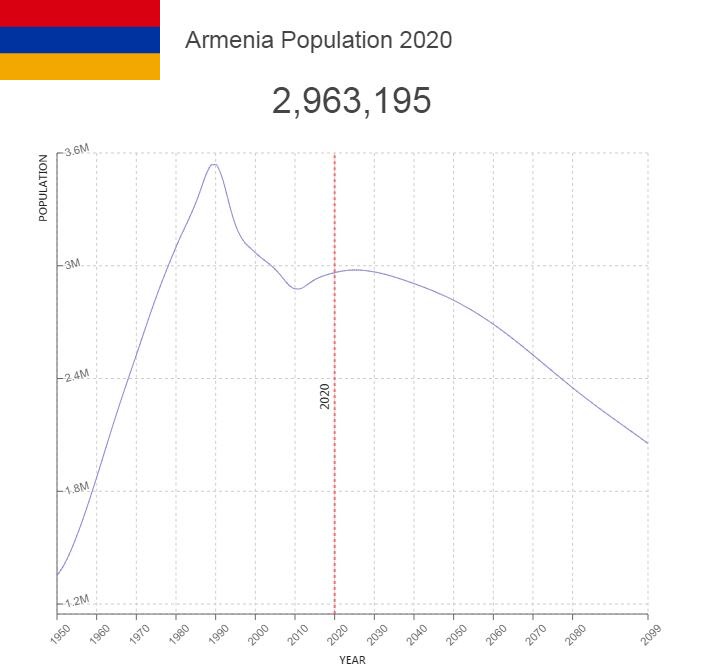 Although Armenia is geographically located in Asia, the country has cultural and political links with Europe. The past as a Soviet Republic has had a strain on the economy, but in recent years the country has experienced economic growth.
Key figures and facts
Capital: Yerevan
Ethnic groups: Armenians 98.1%, Kurds (yezidi) 1.1%, others 0.7% (2011)
Language: Armenian (official) 97.7%, Kurdish 1%, Russian 0.9%, other 0.4% (2001)
Religion: Armenian Orthodox 92.6%, Evangelists 1%, Others 5.3%, No Religion 1.1% (2011)
Population: 2 930 000 (2017)
Area: 29 740 km2
Currency: dram
GNP per capita: 8 833 PPP $
National Day: September 21st
In 2013, the population of Armenia was estimated at 2 977 000 (World Bank) residents and annual population growth was negative, by –0.07%. The birth and death rates in 2012 were 14 and 9, respectively. Life expectancy was estimated at 78 years for women and 71 years for men in 2012. The population is substantially poor (93.3%, 2002). No other former Soviet republic has such high ethnic homogeneity. Otherwise, minorities of Russians and Kurds. Most live in the central area around the capital Yerevan (1,246,100 residents 2001). Other major cities are Gjumri (formerly Kumajri and Leninakan, 210,100 residents in 2001) and Vanadzor (formerly Karaklis and Kirovakan, 170,800 residents in 2001).
Religion
The country was early Christianized. Christianity was introduced by Gregor Lysbringeren (240–332), and the church has maintained a central position in Armenian culture and national sentiment. About 64% of the population is affiliated with the Armenian Church. There are Russian Orthodox and Muslim minorities, while approximately 34% are not affiliated with any denomination.
Language
The official language is Armenian, which is the mother tongue of about 93% of the population. The rest speak Russian, Kurdish or Azerbaijani. Armenian is written with its own alphabet.