Guyana, state of northeastern South America; 214,970 km2, 779,000 residents (2019).Guyana borders on the east to Surinam and on the south and west to Brazil and has a coast to the Atlantic in the north. The capital is Georgetown (118,400 residents, 2013).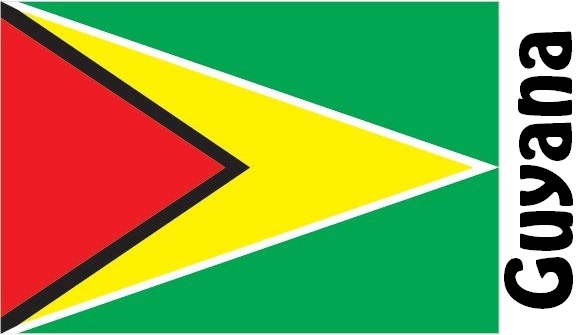 Country facts
Co-operative Republic of Guyana / Republic of Guyana
Country abbreviation: GY
Area: 214 970 km2
Population (2019): 779,000 residents
Capital: Georgetown
Main language: English
State: Republic
Head of State and Head of Government: David Granger (President)
Per capita GDP (2018): US $ 4,635
GNI per capita (2018): US $ 4,760
Currency unit: 1 guyanad dollar = 100 cents
Currency code: GYD
Country number (telephony): 592
Internet Domain Name: gy
Time difference compared to Sweden: −5
National Day: February 23 (Proclamation of the Republic, 1970)
Independence Day: May 26, 1966
Nature
Land use: forest (84%), agricultural land (2%), other (14%)
Highest mountain: Roraima (2,810 m above sea level)
Population
Population density (2019): 4 residents per km2
Natural population growth (2019): 1.3%; birth rate 20 ‰, death rate 7 ‰
Age structure (2019): 0-14 years (29%), 15-64 (65%), 65- (6%)
Life expectancy (2019): men 67 years, women 73 years
Infant mortality (2019): 27 per 1,000 live births
Population forecast 2050: 800,000 residents
HDI (2017): 0.654 (place 125 of 189)
Urbanization rate (2019): 27%
Most populous city (2013): Georgetown (118,400 residents)
Business
Industry's contribution to GDP (2017): agriculture (15%), industry (15%), service (70%)
Exports (2017): US $ 1,440 million
Main export products: sugar, gold, bauxite
Main exporting countries: Canada, USA, Panama
Imports (2017): US $ 1,630 million
Main import products: machinery, oil products
Main importing countries: Trinidad and Tobago, USA, China
Railway network: nothing in operation
Guyana has a longer coast in the south towards the Atlantic Ocean and a short coastal section in the east towards the Caribbean. The country's western and southern inland consists of a vast highland, whose southern side is drained to the Amazon.
According to the 1980 constitution, the president exercises executive power. The president appoints a government, which is collectively responsible to the National Assembly. This has the legislative power and is elected for five years in general elections. The country became independent in 1966.
Guyana has an ethnically mixed population, with about 50% being of Indian descent. Business is dominated by agriculture (sugar and rice) and mining (bauxite and gold), which makes the country vulnerable to weather disasters and price fluctuations on important commodities. Guyana also has a large government debt and is very dependent on international lenders.
Guyana Map