Guyana Overview
Country Profile
The Cooperative Republic of Guyana is located in northeastern South America, and gets its name from the Indian language for "more water town." An area of 215,000 square kilometers is home to a population of 772,000, mainly Indians and blacks. Residents are primarily Christian, Hindu or Muslim, and English is the primary language. The currency is the Guyana dollar and the capital is Georgetown.
Guyana National Flag
The Guyanan national flag contains the colors green, white, yellow, black, and red. Green symbolizes agriculture, forestry, and other natural resources; white symbolizes rivers and water; yellow symbolizes mineral wealth; black symbolizes the people, courage, and perseverance; and red symbolizes the strength of the motherland. The triangle shape pace arrow symbol of the country.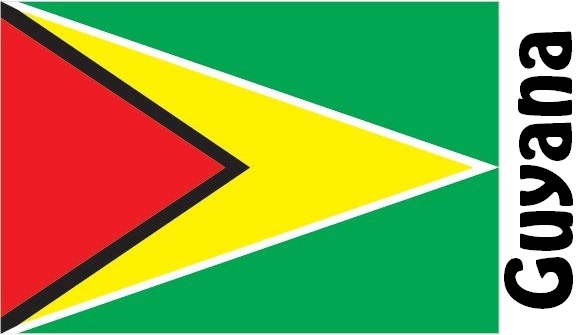 History Summary
The original inhabitants of Guyana were Indians. In 1499, Spanish navigators landed, and in the 16th century the Netherlands, Britain, and France all expanded their colonial empires into Guyana. By 1621, the Dutch West India Company controlled most of the areas of Guyana, which last throughout the 17th and 18th centuries. In 1814 the Dutch transferred the colony to the United Kingdom, which became British Guyana in 1831. On May 26, 1966, Guyana declared independence, and on February 23, 1970, the Cooperative Republic of Guyana was established, and joined the Commonwealth.
Economy and Culture Overview
Guyana's agricultural sector is concentrated in the coastal plain, mainly producing rice, sugar cane, corn, cassava, citrus, coconut, banana, and coffee. Bauxite mining, sugar and rice production are the three pillars of the economy. Bauxite extraction is amongst the largest in the world. Other industries include wood processing, food, and clothing. Apart from the rice milling industry, sugar, aluminum, wood and aquatic product processing, Guyana also engages in gold and diamond mining, brewing, tobacco, brick-making, textile printing, and dyeing, as well as small ship repair.
Guyana's primary mineral resources are bauxite, gold, diamonds, manganese, molybdenum, copper, tantalum, tungsten, nickel, and uranium. The forest area accounts for 85% of the total land area, and is the one of the world's highest forest, containing many rare plants.
St. George Catholic Church
St. George's Cathedral is located in the capital city of Georgetown. Built in l892, the 44 meters high building is the world's tallest wooden structure.
Guyana Map