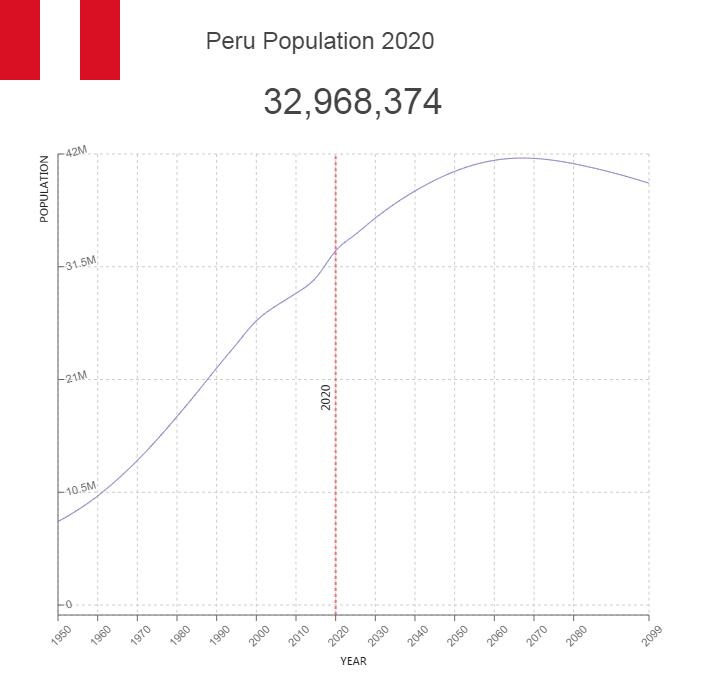 Peru was the last country to become independent in South America. The country is rich in mineral resources and is the world's next largest producer of copper and silver.
Key figures and facts
Capital: Lima
Ethnic groups: Amerindians 45%, mastes (both American and European origin) 37%, Europeans 15%, other 3% (2007)
Language: Spanish (official) 84%, quechua (official) 13%, aymara (official) 2%, other 1% (2007)
Religion: Catholics 81%, Evangelical Christians 13%, Other/Unspecified/None 6% (2007)
Population: 32 165 000 (2017)
Control Form: Republican Democracy
Area: 1 285 220 km²
Currency: Peruvian Nuevo Sol (PEN)
GNP per capita: 13 019 PPP $
National Day: July 28th
Population of Peru
The population of Peru is estimated at 30 376 000 (World Bank 2013), annual population growth to 1.3%. Life expectancy at birth is 77.3 years for women and 71.9 years for men.
Peru is one of the few countries in South America where Indians make up over half the population. The largest group is quechua, which alone accounts for almost half of Peru's population. Just over 5% is aymara. The Indians are located in the highlands and in the tropical Montaña area, the "Mountain area", on the eastern slope of the Andean highlands. In addition to Spanish speakers (mastis; about 30-35%) and Native American speakers, there are today minorities of Japanese, Chinese and Italians. About 1% are African Americans; many of these are descendants of Africans who were brought here as slaves in the 16th and 16th centuries.
Large sections of the Native American population have extremely difficult living conditions, including widespread malnutrition. Deep and widespread poverty in the countryside has created a profound impact on cities, which in turn leads to slumber, higher unemployment, crime and a number of major social problems.
The average population density is 23.7 units per km2. The bulk of the population lives in valleys and streams in the mountains, and increasingly in coastal cities, where the capital of Lima (with the port city of Callao, 773,700 residents in 2000) has an explosive growth (7,748,000 residents in 2002). Other major cities are Arequipa, Trujillo and Chiclayo. About 78% of the population lives in urban areas (2013).
Religion
Almost the entire population professes Christianity. About 89% belong to the Catholic Church; About 7% are Protestants.
Language
Spanish and Quechua [ketʃwa] are official languages. In the highlands, Native American languages, primarily quechua, but also aymara dominate.