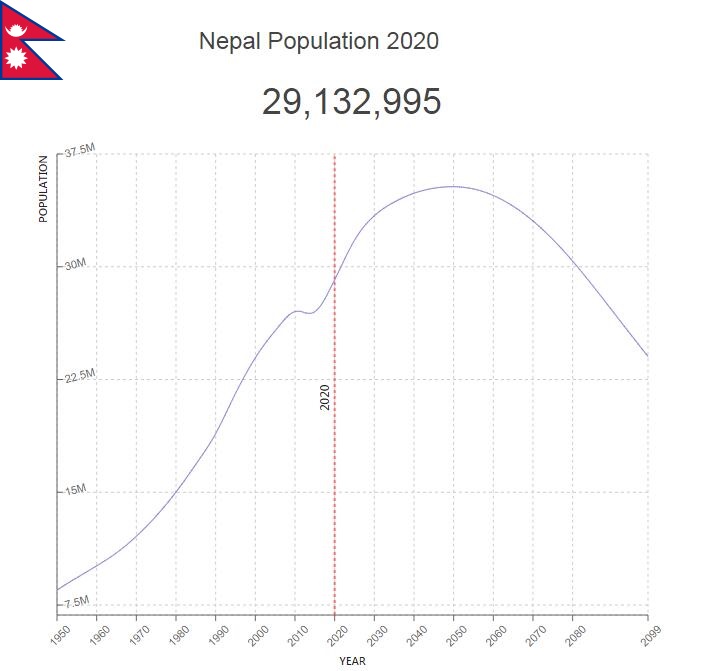 Nepal is a poor country with magnificent scenery. The country's political situation has been unstable for a number of years. In June 2008, the country became a republic and got a new democratic constitution in 2015.
Key figures and facts
Capital: Kathmandu
Ethnic groups: Chetiri 17%, brahmin 12%, magar 7%, tharu 7%, tamang 6%, newar 5%, kami 5%, yadav 4%, rai 2%, grurung 2%, damai/dholii 2%, thakuri 2%, limbu 2%, other 23% (2011)
Language: Nepali (official) 45%, maithili 12%, bhojpuri 6%, tharu 6%, tamang 5%, newari 3%, magar 3%, bajjika 3%, urdu 3%, other/unspecified 15% (2011)
Religion: Hindus 81%, Buddhists 9%, Muslims 4%, Christs 3%, Christians 1%, other/unspecified 1% (2011)
Population: 29 305 000 (2017)
Control Form: Republic
Area: 147 180 km²
Currency: Rupee (NPR)
GNP per capita: 2 478 PPP $
National Day: May 28th
Nepal's Population
Nepal has a population of 29,384,297 residents (2017). Very high birth rates and declining mortality have given the country a high natural growth rate and a "young" population; 30.3 percent are under 16, and only 5.2 percent are 65 or older. Life expectancy is 71.6 years for women and 70.4 years for men (2017).
The majority of the population is of Tibetan-Mongolian and North Indian origin. Among the latter are ethnic groups such as pahari, terai, newar and tharu. Tibetan Nepalese groups constitute a large minority and include tamang, rai, limbu, bhote and sunwar in the north and east, and magar and gurung in western and central parts. The Nepalese often go by the name gurkha, but in the ethnic sense, the gurkha belongs to several different ethnic groups, including gurung and rai. In the northeast, the mountain people live sherpa.
Only less than 20 percent of the population lives in cities (2017), but the population density is high, 188 residents per square kilometer, and is most concentrated in the central valleys, where the largest cities are: Kathmandu, Biratnagar, Pokhara and Lalitpur (Patan).
Religion
Buddha's birthplace of Lumbini is located in Nepal, and Hinduism and Buddhism have existed side by side since the first centuries AD. The Gurkhas, who have been the dominant people group of the 18th century, are Hindus and Hinduism is state religion. Officially, about 86 percent of the population is considered Hindus, but many ethnic groups (such as tamang) have essentially preserved their own traditional religions with an element of paternal cult and shamanism. Buddhists make up about 8 percent.
Among Tibetan peoples in northern Nepal (for example, Sherpa), Buddhism prevails in its Tibetan form, and among a minority of Newarians in the Kathmandu Valley, Indian, Tantric Buddhism has survived to this day.
There are 3.5 percent Muslims (living along the border with India) and about 0.2 percent Christians.
Language
The country's official language is Nepali, also known as Gurkhali. It is native to just under half the population and serves as the lingua franca for the rest of the country. Other Indo – native languages are spoken along the border in the south, in the so-called terra region, which has had immigration from India for at least 200 years. Both maithili, bhojpuri and hindi (avadhi) represent such languages ​​with emphasis on the Indian side. Also, the Tharu dialects are closely related to Bihar. Further west there are languages ​​of the Pahari Pen.
Another main group is Tibetan-Burmese languages, which are mainly spoken in central and northern parts of the country. From a cultural point of view, newari is most important. It belongs in the Kathmandu district (4 percent). As an old literary language it stands in a special position. Written languages ​​are tamang (5.5 percent), magar (2.7 percent), limbu (2.6 percent), gurung (1.7 percent) and rai (1.5 percent). In the far north, dialects are spoken by Tibetans, including the Sherpas.