In order to enter Italy, certain goods are subject to specific controls and, regardless of their value and quantity, they require the consent of Italy government, preferably, license must be obtained prior to passage through the customs, preventing the goods from being retained. On this page, you will see what kinds of items are prohibited from entering the Italy, and which items need special documentation before exporting to Italy.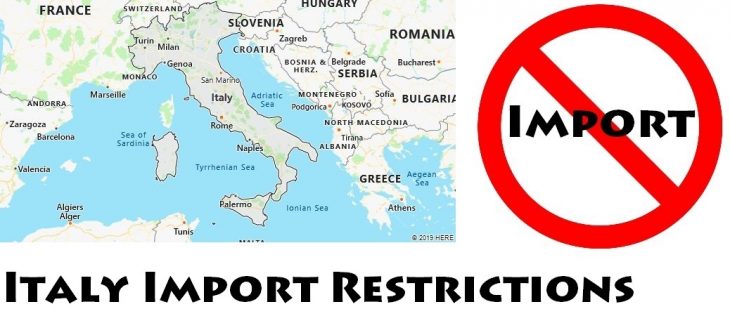 Import regulations
Senders should determine import restrictions from Italian authorities before posting:
Alcoholic beverages
Animal products
Books
Chemicals, non-hazardous
Coffee and coffee samples
Cologne and perfume
Cosmetics
Dangerous goods, haz or comb materials
Drugs; prescription and non-prescription
Fabrics and fabric samples
Foodstuffs
Leather goods
Medical Samples
Medical/dental supplies and equipment
Oil products
Perishables
Personal effects
Phones/modems
Pornography
Plants and plant products
Radio equipment
Seeds
Ship spares
Shoes
Tea
Televisions, television equipment
Tabacco
Works of Art
Weapons
Wood products
Yarn
EDN's and export permits are required for:
Kangaroo skins
Crocodile skins
Emu oil
Fish oil
Bunker oil
Coal
Petroleum bases products
Tobacco and tobacco products
Any other alcohol including beer and spirits all volumes.
Special documentation requirements
Italy requires an import permit for many goods. Before posting any item, senders should confirm that the addressee has any necessary permit. Commercial goods require an invoice and a Certificate of Origin.
The sender and receiver details must be addressed with a valid street address in English. A Post Office Box address is not acceptable.
The sender is responsible for finding if the destination country may impose duties, taxes, brokerage fees or any other fees that may be applied on the item that is being sent. Please contact the consulate office of the country you are sending to or contact the ECI customer contact centre on 1800 007 678.
Customs duty
Please note the following:
If the value of the contents is up to USD $34.50, no duty will be levied
Value of goods cannot be understated and must be indicated for customs purposes only
If value over 25000 EUR, written confirmation required
Senders must include phone number and one return address.
Samples must be sent with typewritten invoice with detailed description of contents itemized by number of units, country of origin and, if textiles and shoes, fibre contents.
Prohibitions
In addition to items prohibited by Dangerous and Prohibited Goods & Packaging Post Guide and ECI International Courier Regulations.
Italy prohibits:
Antiques
Airline tickets, blank stock
Asbestos
Bearer Share Certificates, Bonds, Uncashed Travellers Cheques, Open Tickets (lottery, football match, theatre
Cheques, blank
Eggs
Fish
Fossilized animals
Furs
Honey
Hunting trophies
Insects
Meat
Milk
Precious metals and stones
Tobacco
Tobacco substitutes.
Transporting food of any kind is prohibited under ECI Platinum.