Where is Sierra Leone located on the map? Sierra Leone is an independent nation located in Western Africa. Check out the following images to see location of Sierra Leone on maps.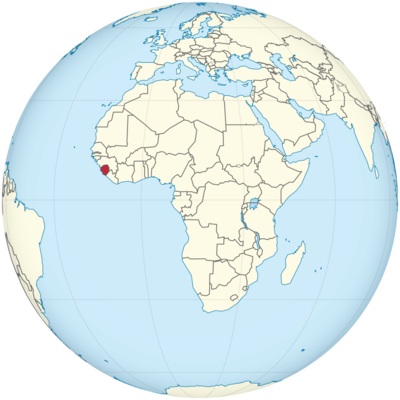 Sierra Leone Location in World Map
Sierra Leone is a state in West Africa. It borders the Atlantic in the west. In the north and east it is surrounded by Guinea, in the southeast it borders on Liberia. So there are only two neighboring countries.
Sierra Leone literally means "Lion Mountains". The Portuguese explorer Pedro da Cintra gave this name to a peninsula on the coast in 1460. He thought the landscape here was rough and wild like a lion. The name was soon used for the entire stretch of coast and then also for the later British colony.
The map shows: Sierra Leone is in West Africa.
Mountains and Rivers
On its coast, Sierra Leone is flat and forms a plain. The Lion Mountains are located on the peninsula mentioned. The capital Freetown is also located here. There are mangrove swamps, sandy beaches and tropical rainforests. However, the forest is seriously threatened by cutting down trees or slash and burn. Off the coast are the islands of Banana Islands, Turtle Islands and the rather large Sherbro Island.
Large forest areas adjoin the humid plain. They are traversed by numerous rivers that converge on the coast in wide estuaries, for example Little Scarcies, Mabole and Taia. This includes the longest river in Sierra Leone, the Rokel. The Mano River forms the border with Liberia. In the north the landscape turns into the hot savannah.
Climate
The climate in Sierra Leone is tropical and humid. With 5000 milliliters of rainfall, the coastal region is one of the wettest in West Africa. The rainy season lasts from mid-May to mid-October. It rains heaviest in August and September. Sometimes it rains non-stop for days.
The dry season then runs from mid-October to mid-May. In December and January the Harmattan, the wind from the Sahara that brings dust and sand with it, blows. It is hottest in February, March and April. Then it doesn't rain at all.
The average temperatures in Freetown are around 30 degrees during the day and 23 degrees at night. The "coldest" month is August with 27.7 degrees per day, the hottest April with 31.4 degrees.
Sierra Leone Facts
| | |
| --- | --- |
| Size | 71,740 km² |
| Residents | 7.65 million |
| Language | English (official language) |
| Capital | Freetown |
| Longest river | Rokel (386 km) |
| Highest mountain | Bintumani (1,948 m high) |
| Currency | Leone |