Where is Central African Republic located on the map? Central African Republic is an independent nation located in Central Africa. Check out the following images to see location of Central African Republic on maps.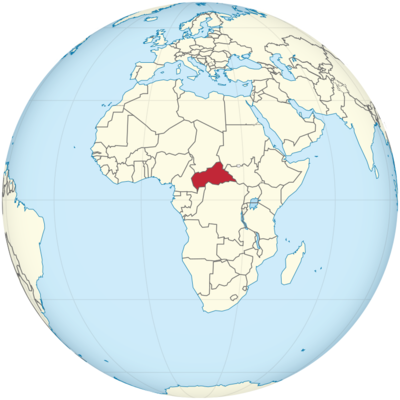 Central African Republic Location in World Map
The Central African Republic is located in the middle of Africa. She even has Central Africa in her name. The country is just north of the equator, in the northern hemisphere of the earth. It has no access to the sea and is therefore a landlocked country. There are land borders with Chad, Sudan, South Sudan, the Democratic Republic of the Congo, the Republic of the Congo and Cameroon.
The Central African Republic is located in the middle of Africa as you can see on the map.
Mountains
Most of the country is on a plateau that is around 600 meters high. You can see this on the map on the right, because the land there is light brown. Plains, however, would be green. This is the case in the north of the country, because this is where the Chad Basin is located. This plain around Lake Chad rises slowly in all directions. A map at the bottom of the slide show shows you where the Tashad Basin is.
In the east of the country, on the border with Sudan and South Sudan, lies a mountain range, the Bongo massif . The highest peak here is the 1330 meter high Mont Toussoro. A second mountain range lies in the west on the border with Cameroon. In this mountain range, the Yade massif, lies the highest mountain in the country, the Mont Ngaou i with a height of 1420 meters.
Climate
The climate is predominantly tropical. In the south of the country it is always humid, which is why tropical rainforest grows here. It's hot and humid. The temperatures hardly fluctuate all year round and therefore there are no seasons. One also speaks of the time-of-day climate, because temperatures fluctuate more on a day than from month to month.
To the north, the always humid tropics merge into alternately humid tropics. There is therefore a rainy and a dry season here. The landscape here turns into a moist savannah. It rains from May to October, the dry season is from November to February and in March and April it rains slowly more. Between December and March, the harmattan sometimes blows heavily and also carries desert dust with it.
Even further north the landscape becomes a dry savannah. It rains less overall and the rainy season only lasts four months, from June to September. The northernmost tip of the country is so dry that there is desert here.
Central African Republic Facts
| | |
| --- | --- |
| Size | 622,436 km² |
| Residents | 4.66 million |
| Languages | Sango, French |
| Capital | Bangui |
| Longest river | – |
| Highest mountain | Mont Ngaoui (1,420 m) |
| Currency | CFA franc |