Where is Andorra located on the map? Andorra is an independent nation located in Southern Europe. Check out the following images to see location of Andorra on maps.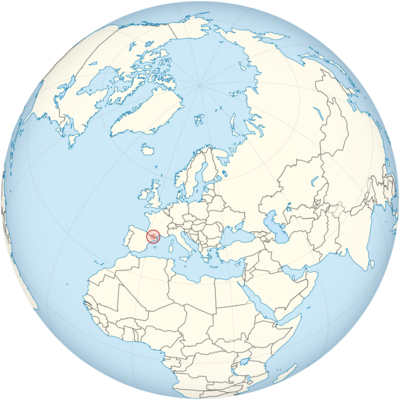 Andorra Location in World Map
Where is Andorra located? Andorra is one of the smaller countries in the world and is considered a dwarf state. It is located in the southwest of Europe in the Pyrenees. This is a mountain range that separates the Iberian Peninsula (on which Spain and Portugal are located) from the rest of Europe. Andorra lies exactly between France and Spain. On the map, you can see that it is squeezed between these two countries.
The border with France in the north is 56 kilometers and that with Spain in the south 63 kilometers. The entire country is only 468 square kilometers. You don't even need an hour to drive through it. There are seven churches. They are called Canillo, Encamp, Ordino, La Massana, Andorra la Vella, Sant Julià de Lòria and Escaldes-Engordany.
Where is Andorra located? Andorra is very small – do you see the red dot? Click on the map!
Is Andorra in the EU?
Andorra is not in the EU. So the small country is not a member of the European Union. France and Spain, the two neighboring countries with which there are also the closest links, are part of the Member States, but Andorra is not. But there are close ties to the EU. There are agreements between Andorra and the EU that decide on a customs union, or agreements on close cooperation in the area of ​​the environment or transport. This way to: EU simply explained.
Mountains and Rivers in Andorra
Because Andorra is located in the middle of the Pyrenees, the country is one thing above all else: mountainous. There are 65 mountain peaks alone that are higher than 2000 meters. The highest mountain is Coma Pedrosa at 2942 meters. Even the lowest point in the country is 840 meters above sea level. Hiking, skiing and climbing are therefore also popular sports in Andorra. By the way, in the mountains you can find many of the typical small huts, the Bordes (singular: Borda).
The longest river is the Valira, whose two arms join in the south of the country. From there it flows through Andorra la Vella and on to Spain. The Valira flows through narrow valleys. Incidentally, rivers, lakes, forests and mountains make up around 92 percent of the country's area – lots of nature to enjoy!
Climate in Andorra
Because Andorra is located in the middle of high mountains, there is a high mountain climate here. That means it's pretty cool. However, the lower elevations are also influenced by the Mediterranean. The average annual temperature in the capital is 7.9 degrees. January is the coldest month with an average of 0.7 degrees, July is the warmest with 16.6 degrees.
Andorra Facts
| | |
| --- | --- |
| Size | 468 km² |
| Residents | 77,000 |
| Language | Catalan |
| Capital | Andorra la Vella |
| Longest river | Valira (44 km) |
| Highest mountain | Coma Pedrosa (2942 m) |
| Currency | Euro |