Flag of British Virgin Islands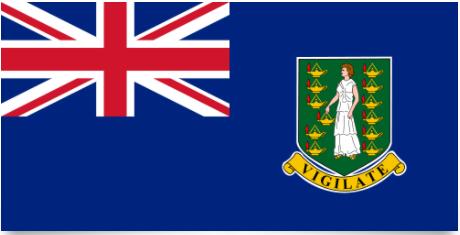 British Virgin Islands Flag Meaning
British Virgin Islands Overview
| | |
| --- | --- |
| Population | 20,000 |
| Currency | US $ |
| Area | 150 km2 |
| Capital city | Road Town |
| Population density | 133.3 residents/km2 |
Located in the eastern part of the Virgin Islands. The area consists of 36 islands and reefs, of which 16 are inhabited. The largest are Tortola, Anegada, Virgen Gorda and Jost Van Dyke, where the majority of the population lives. The landscape is of volcanic origin and is mountainous. Agricultural production is very limited (fruits and vegetables) as the rainfall is very irregular. The main economic activities are tourism and fishing. Coral reefs are threatened by tourism.
The People: The majority of the population is descended from African slaves. Furthermore, a small British minority exists. 86% of the population lives on Tortola, 9% on Virgen Gorda, 3% on Anegada and 2% on Jost Van Dyke.
Religion: Predominantly Protestant (Methodist 45%, Anglican 21%, Church of God 7%, Seventh-day Adventist 5%, Baptist 4%, Jehovah's Witnesses 2%, other 2%); Roman Catholic 6%; another 6%. (1981).
Language: English (official)
Political parties: Virgin Islands Party (VIP), led by Ralph T. O'Neal; Independent Popular Movement (IPM), led by Omar Hodge and Allen O'Neal; United Party (UP), led by Conrad Maduro; Concerned Citizens Movement (CCM), led by E. Walwyln Brewley.
Official name: British Virgin Islands
Capital: Road Town, 9,400 residents (2004).
Other Major Cities: East End-Long Look, 4,900 residents (2000).
Government: John Duncan, governor appointed by the British Crown in August 2014. Orlando Smith, Prime Minister since November 2011. There is a legislative council of 13 redistricting, of which 9 are elected and 4 are appointed.
Natinal Day: July 1 (Territory Day).
Armed Forces: Britain is responsible for the islands defense.