In order to enter Ukraine, certain goods are subject to specific controls and, regardless of their value and quantity, they require the consent of Ukraine government, preferably, license must be obtained prior to passage through the customs, preventing the goods from being retained. On this page, you will see what kinds of items are prohibited from entering the Ukraine, and which items need special documentation before exporting to Ukraine.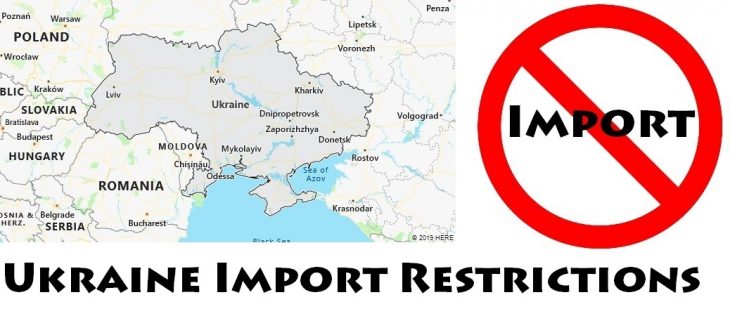 Import regulations
Senders should determine import restrictions from Ukraine authorities before posting:
Anti-parasite products
Alcoholic beverages
Agricultural products
Animals or animal products
Foodstuffs
Foreign currency
Fruit
Narcotics
Plants and plant products
Pharmaceutical products
Radio receiving apparatus
Seeds
Tobacco
War material
Weapons, hunting.
Weapons and parts of weapons
Personal use items
Ukraine admits items for the exclusive personal use of the addressee, subject to the payment of customs duty and subject to certain items not exceeding the quantities shown.
| | |
| --- | --- |
| Item | Quantity |
| Clothing – coats, jackets, etc | 3 of each kind |
| Cloth | 10 metres |
| Photographic and video equipment | 1 of each kind |
| Audio recordings | 10 |
| Video recordings | 5 |
| Personal computers and peripheral equipment | 1 |
| Computer tapes and discs | 15 |
| Wine and vodka | 1 litre |
| Radio and video machines | 1 of each kind |
| Electronic music equipment | 1 of each kind |
| Primary religious works – Bible Koran, Tora, etc | 2 of each kind |
| Crucifixes, icons, etc. | 2 of each kind |
Items containing a radio or mobile telephone are admitted if they are addressed to natural persons and if permission has been granted by the Ukrainian State Centre of Radio Frequencies and Telecommunications Supervision. The fax number of the Centre is as follows: ((+38 044) 4502765).
Items containing medicines for personal use in quantities required for a course of treatment are permitted where the addressee has obtained authorization from the Ministry of Health of Ukraine.
Special documentation requirements
Commercial goods must include an invoice.
Inherited goods require a certificate, endorsed by a consul, which confirms the right of inheritance.
All CN22 and CN23 customs declarations forms must contain a full and detailed description of the items content and be completed in English, French of Russian.
Products requiring a certificate of conformity to sanitary and phytosanitary standards are the following:
Animals and animal products
Plants and vegetable products
Prepared foodstuffs
Items containing such products sent to Ukraine without the aforementioned certificate will be returned to the sender.
Prohibitions
In addition to items prohibited by Dangerous and Prohibited Goods & Packaging Post Guide and ECI International Courier Regulations, Ukraine prohibits:
Agricultural products
Animals and animal products
Animal or vegetable fats
Alcoholic beverages
Arms and ammunition
Cereals
Foodstuffs
Fruit
Foreign Currency
Grains, seeds and fruit
Inorganic and organic chemicals
Narcotics
Plants and plant products
Photographic or cinematographic products
Plastics and articles thereof
Printed articles; books and brochures- offensive by nature
Prepared foodstuffs
Radio receiving articles
Rubber articles and articles thereof
Salt
Seeds
Tobacco
Vegetable products
Weapons
War material
weapons, hunting
Weapons and parts of weapons