In order to enter Turkey, certain goods are subject to specific controls and, regardless of their value and quantity, they require the consent of Turkey government, preferably, license must be obtained prior to passage through the customs, preventing the goods from being retained. On this page, you will see what kinds of items are prohibited from entering the Turkey, and which items need special documentation before exporting to Turkey.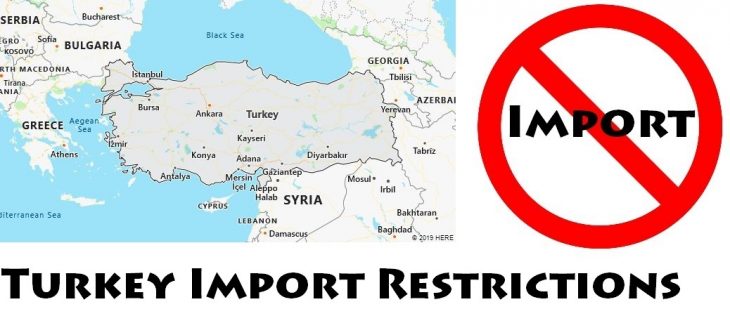 Import regulations
Senders should determine import restrictions from Turkish authorities before posting:
Alcoholic beverages
Bees and leeches
Butter
Ceramic products
Coffee
Cologne and perfume
Computer software, components and parts
Cosmetics
Diplomatic mail
Drugs: Prescription and non-prescription
Electronic equipment
Firearms
Foodstuffs
Food supplements and foods for athletes to Turkey is also prohibited. However, this restriction is waived in cases where a medical report, prescription or national sportsperson's certificate is presented by the addressee
Glass products
Ivory
Labels
Leather goods
Maps
Medical/dental supplies and equipment
Meat products
Mineral waters
Parasites and insect killers
Personal effects
Phones/modems
Plants and parts of plants
Radio equipment
Samples, textile
Seeds
Silkworm eggs
Soap
Tea
Tobacco
Textile articles
Thermometers, medical
Tobacco
Vegetable fats and oils, industrial.
Turkey requires an import permit for most commercial goods. Before posting any item, senders should confirm that the addressee has any necessary permit.
Special documentation requirements
Commercial goods require an inserted invoice. Mark the outside of the article facture inseree. Dutiable goods exceeding 50 turkish pounds require a certificate of origin endorsed by a turkish consul. Used clothing, bedding, carpets, sacks and so on, require a certificate of disinfection.
The sender and receiver details must be addressed with a valid street address in English. A Post Office Box address is not acceptable.
The sender is responsible for finding if the destination country may impose duties, taxes, brokerage fees or any other fees that may be applied on the item that is being sent. Please contact the consulate office of the country you are sending to or contact the ECI customer contact centre on 1800 007 678.
Prohibitions
In addition to items prohibited by Dangerous and Prohibited Goods & Packaging Post Guide and ECI International Courier Regulations, Turkey prohibits:
Antiques
Asbestos
Alcohols and alcoholic beverages
Binoculars
Cigarette paper
Coffee and tea
Contraceptives and advertising
Dangerous goods, haz or comb materials
Flour
Furs
Gambling Devices
Invoices, blank
Lottery tickets and advertising
Measuring apparatus, non-metric
Molasses
Pepper, white
Playing cards
Pornography
Precious metals and stones
Propaganda against Turkey
Saccharine
Saffron
Salt
Shaving brushes made in Japan
Soil
Tobacco and tobacco products.
Transporting food of any kind is prohibited under ECI Platinum.