In order to enter Iceland, certain goods are subject to specific controls and, regardless of their value and quantity, they require the consent of Iceland government, preferably, license must be obtained prior to passage through the customs, preventing the goods from being retained. On this page, you will see what kinds of items are prohibited from entering the Iceland, and which items need special documentation before exporting to Iceland.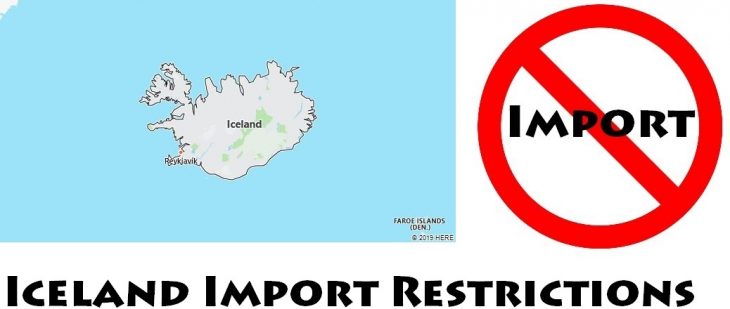 Import restrictions
Senders should determine import restrictions from Icelandic authorities before posting:
Alcohol
Beer
Computer software
Diskettes
Drugs: prescription
Hair, bristles
Medicines
Milk
Plants
Tapes: computer
Tobacco and tobacco products
Wines and liqueurs
Wool.
EDN's and export permits are required for:
Kangaroo skins
Crocodile skins
Emu oil
Fish oil
Bunker oil
Coal
Petroleum bases products
Tobacco and tobacco products
Any other alcohol including beer and spirits all volumes.
Special documentation
Commercial goods require an invoice in duplicate. Iceland requires an import permit for many goods. Before posting any item, senders should confirm that the addressee has any necessary permit.
The sender and receiver details must be addressed with a valid street address in English. A Post Office Box address is not acceptable.
The sender is responsible for finding if the destination country may impose duties, taxes, brokerage fees or any other fees that may be applied on the item that is being sent. Please contact the consulate office of the country you are sending to or contact the ECI customer contact centre on 1800 007 678.
Prohibitions
In addition to items prohibited by Dangerous and Prohibited Goods & Packaging Post Guide and ECI International Courier Regulations, Iceland prohibits:
Animals and animal products
Asbestos
Bees
Bullion and currency
Dangerous goods, haz or comb mats
Gambling devices
Ivory
Jewellery, precious stones and metals
Lead toys
Liquids, non-hazardous
Meat and meat products
Pornography
Rags
Sacks or bags, used
Straw and hay, including when used as packaging
Silkworms.