In order to enter Estonia, certain goods are subject to specific controls and, regardless of their value and quantity, they require the consent of Estonia government, preferably, license must be obtained prior to passage through the customs, preventing the goods from being retained. On this page, you will see what kinds of items are prohibited from entering the Estonia, and which items need special documentation before exporting to Estonia.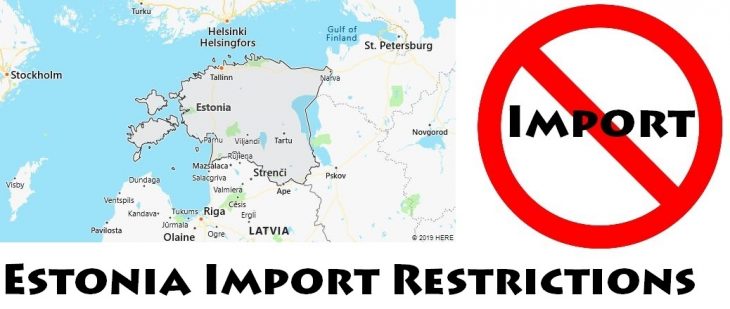 Import restrictions
Stamps
Estonia admits cancelled or non-cancelled stamps only as part of an organised philatelic exchange.
Medicines
Estonia admits only those medicines and vitamins authorised by the Records Office for Medicines and Pharmaceutical Products.
Senders should determine import restrictions from Estonian authorities before posting:
Alcoholic beverages
Animal products
Bees
Dairy and fish products
Food products
Fruit and vegetables
Plant and plant products
Pharmaceutical products
Tobacco
War material
Weapons.
Food products up to 5 kg
May be imported without a certificate in parcels, except raw material of animal origin, thermally untreated food products of animal origin, food additives and admixtures.
Special documentation
Seeds and plants
Seeds, plants and parts of plants require a Phytosanitary Certificate from the Australian Quarantine and Inspection Service.
Prohibitions
In addition to items prohibited by Dangerous and Prohibited Goods & Packaging Post Guide and ECI International Courier Regulations, Estonia prohibits:
Currency, foreign
Cereals
Explosives, combustivle preperations
Inorganic chemicals
Items contrary to the political, social or economic order of the State
Ivory
Jewellery, precious stones and metals
Live trees, plants and bulbs
Paper securities serving as instruments of payment
Products from the milling industry
Pornography
Seeds, grains and fruit
Trademarks and labels
Traveller's cheques.
Estonian Postal authorities do not accept ordinary and registered letters containing articles subject to custom duty.