Where is Tajikistan located on the map? Tajikistan is an independent nation located in Central Asia. Check out the following images to see location of Tajikistan on maps.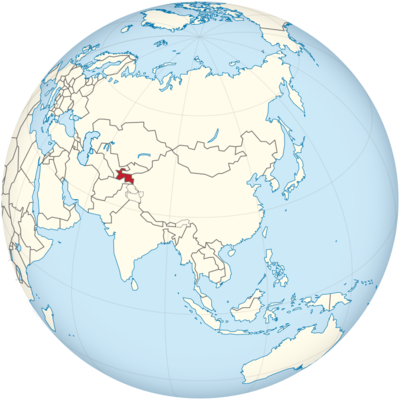 Tajikistan Location in World Map
Tajikistan is in Asia. It is part of Central Asia there. Because there is no access to a sea, the land is a landlocked country. There are land borders with Uzbekistan, Kyrgyzstan, China and Afghanistan. So there are four neighboring countries.
The shape of the country is very rugged. What does she remind you of You could see an animal with its head to the left and a hat on its head. The "hat" belongs to the fertile Ferghanatal. Tajikistan protrudes into Uzbekistan here. Tajikistan also has two exclaves : Woruch is in Kyrgyzstan and Sarwan in Uzbekistan.
Tajikistan is in Central Asia.
Mountains
Almost the entire country is covered by mountains. Half of them are more than 3000 meters high. The Pamir Mountains take up the entire east. Here is also the highest mountain in the country, the 7,495 meter high Pik Ismoil Somoni.
The Seraf Shan chain and the Altai Mountains run in the north of Tajikistan. In the west, the Hissar Mountains (sometimes also called Gissar Mountains) extend to Uzbekistan. Part of the mountains is covered by glaciers .
Rivers and Lakes
Lowlands only exist in the river valleys. Through the Fergana Valley in the far north of Tajikistan flowing river Syr Darya. It is dammed up to the Kairakkum reservoir. Only in the Fergana Valley and in the valleys of the Kofarnihon and Wachsch rivers in the far west can agriculture be practiced. The fields can be irrigated by the rivers.
The largest lake is the Karakul, which is located in the highlands of the Pamir Mountains. There, but to the south, lies the deep blue Saressee. A dam separates it from the smaller Lake Shadau. The lakes and the dam were created in 1911 after a landslide caused by an earthquake.
Climate
Tajikistan has a continental climate: the summers are hot and the winters cold. Depending on the altitude, the summers are shorter or longer, the winters milder or more severe. Temperatures fluctuate just as much on one day as throughout the year.
Overall, it is raining little. Most of the rain falls in winter and spring. The higher you get in the mountains, the cooler it gets there. But even in the Ferghana Valley, the temperature drops below zero for around 100 days a year. The landscape in Tajikistan is determined by the steppe, in which mainly grass grows and not trees.
Tajikistan Facts
| | |
| --- | --- |
| Size | 143,100 km² |
| Residents | 9.1 million |
| Language | Tajik |
| Capital | Dushanbe (Dušanbe) |
| Longest river | Syrdarja (total 2,212 km) |
| Highest mountain | Pik Ismoil Somoni (7,495 m) |
| Currency | Somoni |