Cuba, State of the Caribbean; 110,861 km2, 11.3 million residents (2019).In addition to the main island of Cuba (105,000 km 2 ), there are a further number of islands, most of them small and uninhabited. Administratively, Cuba is divided into 14 provinces. The capital is Havana (2.1 million residents, 2017).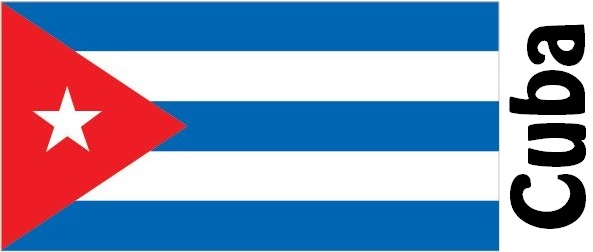 Country facts
Republic of Cuba / Republic of Cuba
Country abbreviation: CU
Area: 110 861 km2
Population (2019): 11.3 million residents
Capital: Havana
Main language: Spanish
State: Republic
Head of State and Head of Government: Miguel Díaz-Canel (President)
Per capita GDP (2015): US $ 7,602
GNI per capita (2011): US $ 5,880
Currency unit: 1 peso = 100 centavos
Currency code: CUP
Country number (telephony): 53
Internet domain name: cu
Time difference compared to Sweden: −6
National Day: July 26 (attack on Moncada Barracks, 1953)
Independence Day: May 20, 1902
Nature
Land use: forest (24%), agricultural land (31%), other (45%)
Highest mountain: Turquino (1,974 m asl)
Population
Population density (2019): 102 residents per km2
Natural population growth (2019): 0%; birth rate 10 ‰, death rate 10 ‰
Age structure (2019): 0-14 years (16%), 15-64 (70%), 65- (14%)
Life expectancy (2019): men 77 years, women 81 years
Infant mortality (2019): 4 per 1,000 live births
Population forecast 2050: 10 million residents
HDI (2017): 0.777 (place 73 of 189)
Urbanization rate (2019): 77%
Most populous cities (2017): Havana (2.1 million residents), Santiago de Cuba (433,000 residents)
Business
Industry's contribution to GDP (2017): agriculture (4%), industry (23%), service (73%)
Exports (2017): US $ 2,630 million
Main export products: oil, nickel, pharmaceuticals
Main exporting countries: Venezuela, Spain, Russian Federation
Imports (2017): USD 11,060 million
Main import products: oil, food, machinery
Main importing countries: China, Spain, Russian Federation
Railway network (2017): 8,400 km
Cuba's main island consists mainly of a small hilly lowland, but in the west the Guaniguanic Mountains rise and in the south-east the island is penetrated by the alpine fold mountain range Sierra Maestra. The largest river is Cauto, which drains eastern Cuba. Otherwise, larger rivers and lakes are missing. Large parts consist of open, savanna-like areas, the most fertile parts of which are cultivated. In the mountain regions there are forests.
The country's constitution, adopted in 1976, defines Cuba as a socialist state, led by the Communist Party and inspired by Marxist-Leninist doctrine. Planning economics and state monopoly for the country's important resources and industries are also stipulated in the constitution. The president is both head of state and head of government and in practice holds dictatorial power. The country became independent in 1902.
Sugar cane production was the basis of the country's economy throughout the 20th century. Tobacco cultivation (the world's best cigar tobacco is also considered to come from the Vuelta Abajo district) and citrus fruits are also important for the country's exports. In the 1990s, tourism emerged as an important source of income, and during the 1990s it has grown ever stronger.
Cuba Map